CLINT STRONG IS A LEGEND IN TEXAS AND NO DOUBT ONE OF THE GREATEST AND MOST INFLUENTIAL GUITAR PLAYERS OF HIS GENERATION. WIDELY KNOWN FOR HIS REMARKABLE TECHNIQUE, IDEAS, AND MUSICAL VOCABULARY, HIS INFLUENCE UPON THE MUSICAL STYLES OF COUNTRY, JAZZ, WESTERN SWING, AND BEBOP MUSIC STAND UNPRECEDENTED.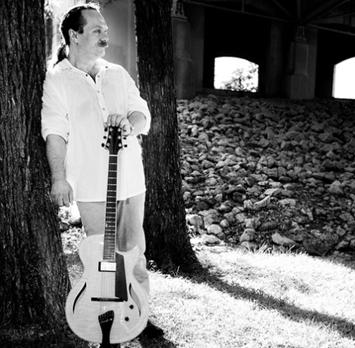 ONE OF THE FEW JAZZ PLAYERS TO COMPLETELY CONQUER THE COUNTRY MUSIC WORLD, WHILE SIMULTANEOUSLY SETTING BEBOP PLAYERS ON THEIR EAR, HE EASILY MAKES THE LIST OF AMERICA'S MOST ASTOUNDING PLAYERS.  AS A VERY YOUNG TEENAGE PROTEGE, CLINT'S MUSICIAN FATHER LED HIM TO THE BEST TEACHERS AND PLAYERS IN TEXAS, EVENTUALLY INTRODUCING HIM TO HOWARD ROBERTS, WHO WAS AN ENORMOUS INFLUENCE ON CLINT.
HE IS PROBABLY MOST HIGHLY ACCLAIMED FOR HIS MANY CONTRIBUTIONS TO THE COUNTRY MUSIC INDUSTRY, PLAYING LEAD GUITAR ALONGSIDE MANY OF COUNTRY MUSIC'S GREATEST PLAYERS AT ONE TIME OR ANOTHER.  TEN OF THOSE YEARS WERE SPENT PLAYING LEAD GUITAR, TOURING, AND RECORDING FOR ONE OF COUNTRY MUSIC'S GREATEST LEGENDS,  MERLE HAGGARD.
CLINT IS ALSO A GIFTED TEACHER WHO HAS HELPED FURTHER THE MUSICAL CAREERS OF MANY MUSICIANS OVER THE YEARS. IN ADDITION TO TEACHING PRIVATE LESSONS, AND A SUCCESSFUL INSTRUCTIONAL VIDEO "MASTERING JAZZ LICKS", HE HAS TAUGHT NUMEROUS CLASSES AND WORKSHOPS ON JAZZ,  AT MANY COLLEGES AND UNIVERSITIES LOCALLY AS WELL AS ACROSS THE US. CLINT CURRENTLY RESIDES WITHIN THE DALLAS/FT. WORTH METROPLEX